Examples
1
Can we supply enough power to both camera and housing as well as data for camera by one ethernet cable?
2
Can we complete installation of camera housing easily by one ethernet cable under severe working conditions?
3
Can we use the existing coaxial cable for renewal into network camera system?
4
Due to outdoor-use, there is no place to install Switch or Extender for ethernet cable.
5
Can we transmit data 6,561ft(2km) by one coaxial cable without any switch?
6
Can we install camera and coax converter in small size camera housing?

1

Yes, a powerful 60W Midspan will supply enough power for both camera and housing(Heater/Blower/Wiper/Washer) as well data for camera.





2

Yes, you can. If working conditions are severe such as top of building or tower, we recommend install camera and finish all necessary data setting before you go to installation site.
Now all you have to do at installation site is just plug in ethernet cable's RJ-45 connector.
Please see "Easy Installation Example Series No.1" in Top of our website.



Notice

60W Midspan PD-9501G/AC was discontinued.

New Model is PD-9501GC.
2021. 11. 24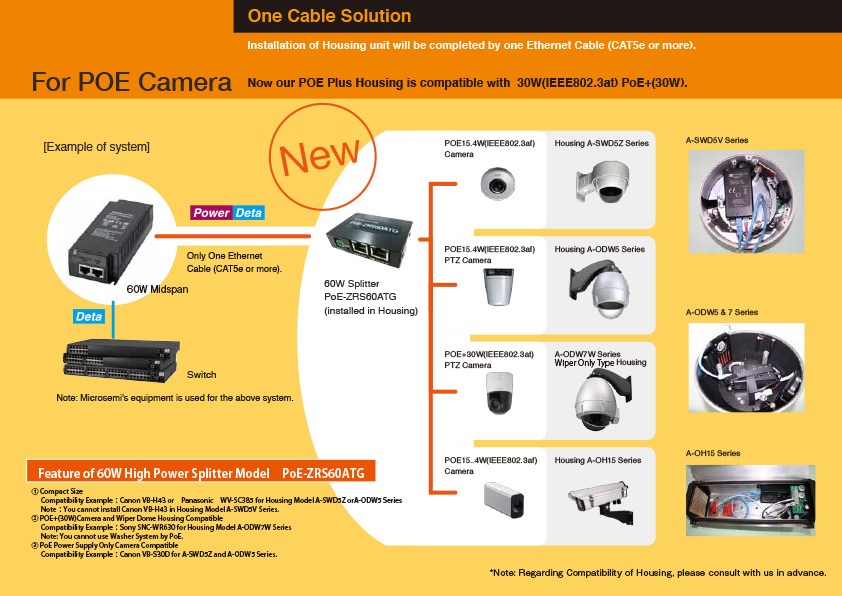 PoE-ZRS60ATG
Specification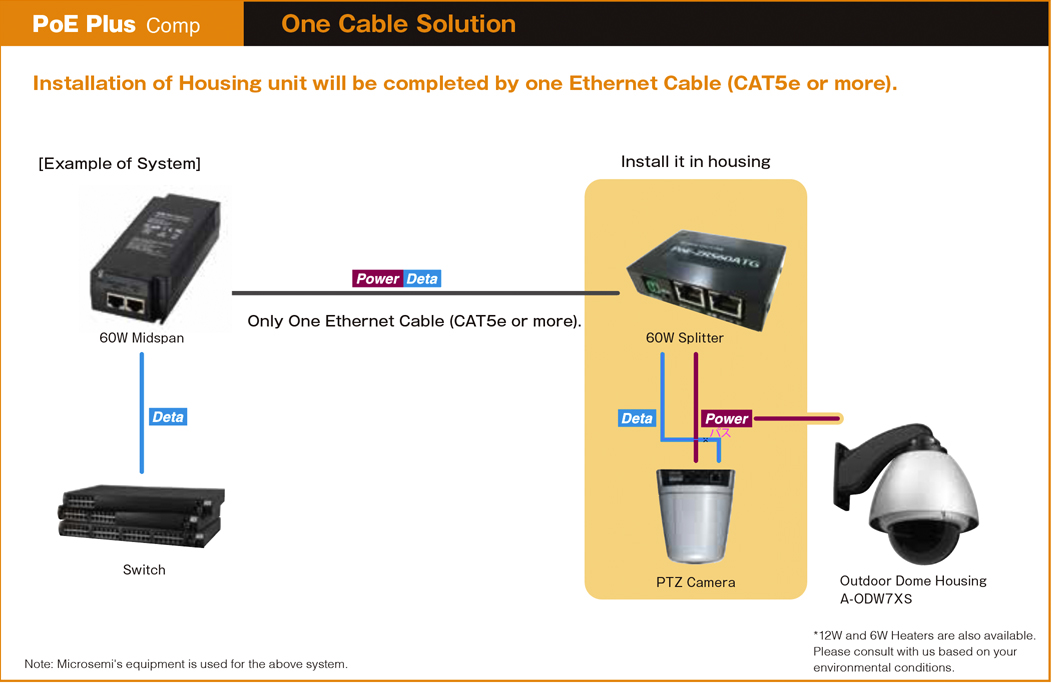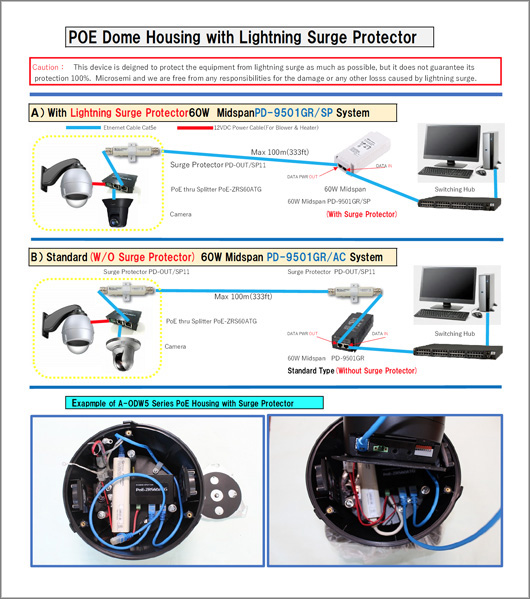 ---
60W Single Port Midspan
PD-9501GC

Made by Microsemi

Outdoor

PD-9501GO

Made by Microsemi

New

with Surge Protector
PD-9501GR/SP

Made by Microsemi

PD-OUT/SP


Made by Microsemi
---
60W Splitter
POE-ZRS60ATG


Made by Techno Broad, Inc.

*Expected Power 43W at Max 100m (333ft)




Note 3, 4
---
Note 1
Use CAT5e or more i Maximum Distance 100m = 333ftj
Note 2
Caution for Extreme Cold Area
There is a danger that housing unit might be frozen in extreme cold area subject to environmental conditions such as direction of wind, speed of changing temperature, amount of sunlight, geographical factors and so on. We strongly recommend use of optional heaters 25W(Total 50W)especially for big size models A-ODW7/7S/7X series. There is still a danger that housing unit might be frozen even if you use optional heaters 25W(Total 50W) depending upon environmental conditions. In order to avoid this trouble, please be sure to consult with us about what to do such as closing ventilation holes around capsule with rubber provided and run blowers continuously with jumper connectors provided. Depending upon environmental conditions, you are requested to add more heaters as special order.? Please consult with us in advance.
We will do our best.
Note 3
For extreme cold area, we do not recommend the use of PoE Plus Equipment.? Because we cannot install additional 12VDC 25W heater(Total 50W).
Housing unit could be frozen due to lack of heater power especially in case of big size housing model A-ODW7 series.